Let's talk Vows!
Posted on
Let's Talk Vows….
Welcome to my second Blog….
It's been a while since I wrote my first one, but hey I'm here, and I'm ready to talk Vows!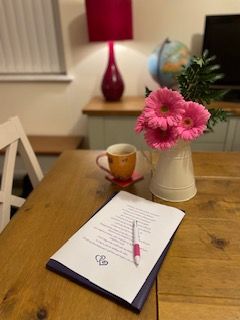 When I meet with my couples to talk about their wedding ceremony, one of the questions I always ask is whether they'd like to include vows. And more often than not the answer is yes. But then they tell me that they have absolutely no idea where to start or how to put their feelings into words.
Now, I'm guessing that If I met you in the street and asked you to tell me all about your partner, what you love about them or perhaps what annoys you about them, you could probably sum it up quite easily, but putting it into a few sentences in front of your family and friends might be a different story all together.
Writing your own vows should be all about speaking from the heart and expressing your love for each other. Vows can be written in lots of ways, there are no hard and fast rules. Vows can be emotional, sentimental, serious or funny.
I'd say vows are one of the most important parts of your wedding ceremony. It's all about uniting with your partner, saying those all-important words that represent your love you share for one another.
So, if you're thinking about writing your own personal vows and you need a little help to get you started, here are a few things to think about and help you on your way...