Five reasons to choose ME as your Wedding Celebrant
Posted on
Five reasons to choose ME as your Wedding Celebrant …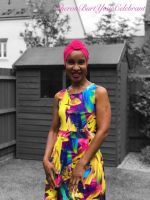 Hi, I'm Sheron and I'm so happy you've stopped by. I'm guessing you're here because you and your partner are perhaps engaged and you may be looking to get married sometime in the near future. You may have already set the date and now you're looking for a Celebrant? Whatever your reason, thank you.
Welcome to my first blog, I thought I'd begin by talking about reasons to choose me as your Celebrant!
There are many reasons why you might choose me as your Celebrant, here are five …
I'm all about love …
I love weddings, I love celebrations. I love being around people who are in the mood to celebrate. For me, weddings are the proof that love is powerful. Powerful enough for two people to want to spend the rest of their lives together and so make the huge commitment of getting married.
It's a huge deal when I am booked to perform a ceremony, an honour to be given this massive undertaking and responsibility of telling your story to your family and friends. Your wedding day is one of the most important days of your life and so it should be. I'm here to celebrate love. If you are here to celebrate your love for each other then you'll feel right at home with me.
I'm versatile …
It doesn't matter if you have a particular faith or belief, whether you want a ceremony that is traditional, spiritual, semi-religious or secular, outrageous or unusual. What matters to me is what you want for your wedding ceremony. My goal is to create your perfect ceremony. I am adaptable and I will go with the flow.
I'm patient …
I know that planning a wedding takes a lot of time and energy. It can also be very stressful. You've probably got a lot of things going round in your head, lots of important decisions to make so that your day is just the way you want it to be. The ceremony itself takes a lot of planning and in order to have a great ceremony it's really important for couples to work closely with me. It's a team effort. I'm not only here to learn about the both of you in order to create your ceremony, I'm also here to listen. It doesn't matter how often you need to call me or chat with me. If you need assistance with your vows or you want help choosing a particular poem or prayer, I'm here.
I'm thorough …
I always provide my couples with a questionnaire in the first instance. The questionnaires give me a base to start from. I also find that more intimate feelings tend to come out when answers are written down. Although my questions are designed to make you feel like we're just sat on a sofa having a cuppa and a chat, they are a vital part to your ceremony. I take great care in paying attention to detail and like to reflect that in my ceremonies.
I'm calm …
For me, it's really important for my couples and families to feel safe and comfortable around me. I love to sit and listen to people talking and give them my full attention. I like to think I have the knack of going with the flow. I feel deeply for others and like to put myself in others shoes to appreciate where they are coming from. I believe I have a great sense of humour, I am trustworthy and empathetic.
So, there you have it… Five reasons to choose ME as your Celebrant.
Thank you for taking the time to read this short blog. I hope it's given you a little insight to why I do what I do. When choosing a Celebrant, it's so important to have the right person by your side to share your day and tell your story. It's so very important to get have that connection, and trust me, you'll know when you find the right one!