Renewal of Vows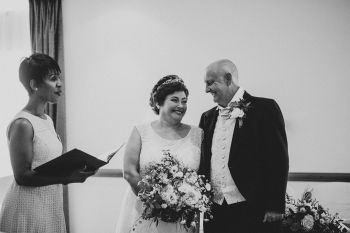 A Renewal of Vows or Commitment Ceremony can be done at any time of your choosing.
It's a wonderful way to celebrate your love.
Perhaps you just want the world to know that you'd do it all over again in a heartbeat
or maybe you want to reaffirm your commitment to each other after a difficult period in your relationship.
This occasion can be shared with family and friends or the ceremony can be held privately without guests.
As there are no legalities involved, you can celebrate these occasions whenever and wherever you wish.
The ceremony itself can include readings, poetry or exchanging of gifts,
re-dedication of rings, or a symbolic ritual such as ring-warming
and if you are a parent, your children can be involved too.
How I work...
Once I've received your enquiry, I will arrange a meeting where we will chat about your vision for your special day
and I will talk you though the process, answering any questions you may have.
It's also a great opportunity for you to see if I am the right Celebrant for you.
If you decide to book me, you will receive a booking form, my terms and conditions,
along with a questionnaire to help me to get to know the both of you.
Together we can arrange a meeting where we'll discuss your ceremony in detail.
I will research your choices, source any symbolic elements that you may wish to include,
such as handfasting or blending of the sands
and I will also assist with personal vows if desired.
I will attend a rehearsal if you choose to have one or we can discuss the choreography of your ceremony via zoom.
I will basically be here for you every step of the way and to create a ceremony
that reflects and represents the both of you.
On your ceremony day,
I will arrive at least an hour beforwe your ceremony begins.
I will liaise with your suppliers, check the ceremony area,
go through any last minute details.
I will set the vibe and make your guests feel welcome, leaving you to enjoy you ceremony!

Before I leave,
You will receive a certificate of your ceremony,
personalised vows and any readings.
Renewal of Vows Ceremony - £825
If you have any questions or would like to know more ...
Call/Text: 07947 832 719
Email: [email protected]