Let's talk Vows!
Posted on
Let's Talk Vows….
Welcome to my second Blog….
It's been a while since I wrote my first one, but hey I'm here, and I'm ready to talk Vows!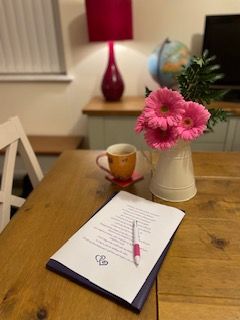 When I meet with my couples to talk about their wedding ceremony, one of the questions I always ask is whether they'd like to include vows. And more often than not the answer is yes. But then they tell me that they have absolutely no idea where to start or how to put their feelings into words.
Now, I'm guessing that If I met you in the street and asked you to tell me all about your partner, what you love about them or perhaps what annoys you about them, you could probably sum it up quite easily, but putting it into a few sentences in front of your family and friends might be a different story all together.
Writing your own vows should be all about speaking from the heart and expressing your love for each other. Vows can be written in lots of ways, there are no hard and fast rules. Vows can be emotional, sentimental, serious or funny.
I'd say vows are one of the most important parts of your wedding ceremony. It's all about uniting with your partner, saying those all-important words that represent your love you share for one another.
So, if you're thinking about writing your own personal vows and you need a little help to get you started, here are a few things to think about and help you on your way...
Sharing the same vows
If you don't like the element of surprise, sharing the same vows might be the perfect solution. Why not work on your vows together. You could decide to repeat the same words, that way you get to decide on the promises and vows that mean the most to you.
Individual vows
Ok so, perhaps you decide that you want to keep your vows a secret from each other until your special day, but you're a little worried that one of you might write more than the other. If this is the case maybe consider giving each other a word count. That way, you'll both be writing vows of similar length.
I don't know about you but I think the hardest part is usually where to start, so how about jotting down a few thoughts beforehand;
You might find it easier to lay out a format so you could start with the same words, here are a few examples:
You make me feel…
You have helped me to…
I have become…
I love you when…
Then you could move on to promises:
I promise to love you…
I promise to always treat you…
I promise that I will…
You could also use a story to bring your love to life, add a bit of humour, talk about things you'll do together and don't forget your ongoing love and support through difficult times.
And if you're after a bit of inspiration you might choose to use lyrics or words from your favourite songs or poems.
I always say to my couples;
Don't be too hard on yourself
If you find yourself struggling to put your words down on paper here's a few things to remember;
Anything and everything you say is important.
Start planning early, don't leave your vows until the last minute.
Make a list of all the things you love about your partner.
Read your vows to a friend or relative for inspiration
Know your limits, if you need a break take one.
Remember to have fun with your vows.
It isn't easy to fully sum up your love for your partner in only a few words – don't worry! Your partner knows and I'm sure your guests know too, so cut yourself some slack here!
One thing I can promise, is that once you've written your vows and you stand in front of your partner on that special day, you will be so very glad that you did.
I hope you've found my suggestions useful in some way and if you are in the process of planning your ceremony, not so daunting when it comes to your vows.
I'm here to help and answer any questions you may have.
But I've got a feeling, you'll do just fine.
Sheron x