Weddings
"A Marriage is a promise that two hearts gladly make..."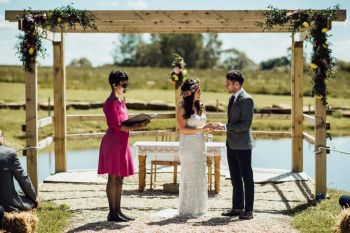 You'll be pleased to know that your wedding ceremony or civil partnership can take place at a venue or location
of your choosing.
The best marriage ceremonies are entrenched in truth and created with intention.
Each ceremony I create is unique, exclusively yours - personal and heartfelt.
Weddings ceremonies can be modern, traditional, spiritual, semi-religious, secular, or of mixed faith.
In fact - your ceremony can be any way you choose, with the content you want.
There are no rules to say that a wedding must have a rehearsal, however, if you would like one,
I will be on hand to go over every aspect of the ceremony from the processional to the recessional.
On your wedding day I will arrive at least an hour before your ceremony begins, I will set the vibe and make everyone feel welcome.
If problems arise you can rely on me to act on your behalf, knowing that I have your interest at heart.
And before I leave, you will be presented with your very own copy of your wedding script.
Your enjoyment is my number one priority!
I can't wait to meet the both of you!
Price from - £650
*For any marriage to be recognised in England and Wales, the legal part of the wedding,
which includes declaratory words, contracting words and the signing of the Marriage Register
must take place at a Registry Office or Approved Venue in the presence of two witnesses before or after the ceremony*
Want to know more? Please call me on 07947 832 719
Evenings and weekends are also good for me.